Our last LINE DANCE EXPLOSION was a hit. We had over 60 dancers join us for a fun filled evening of just line dancing! Woo Hoo! We're going to do it again the last Friday in April on the 22nd, 2011 at 7:00.

This line dance evening will be held in Boise at the Square Dance Hall...no smoke, no alcohol, no bar scene.

Friday, April 22, 2011 from 7:00 pm to 11:00 pm.

Several of our local instructors will each teach a line dance and the rest of the evening you will be able to dance to requests. Beginner to intermediate.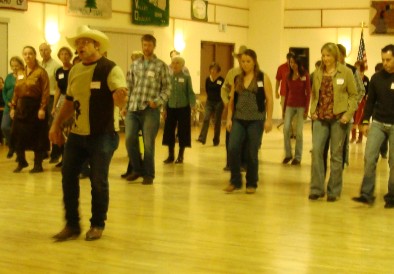 Cost is $5 per person. Children under 15 get in free. Bring a snack and/or beverage to share. Water and coffee will be available.
Don't forget your dancing boots and we will boot scoot the night away.
Tentative Schedule (updates to come):
7:00 Dance
7:15
Lesson
7:45 Lesson
8:15
Lesson
8:45
Lesson
9:00 Dance till the cows come home!
Square Dance Center, 6534 W Diamond, Boise, ID
From I-84
Take the ORCHARD ST. exit, EXIT 52.
Turn south onto S ORCHARD ST.
Turn RIGHT onto W VICTORY RD.
Turn LEFT onto W GOWEN RD.
Turn RIGHT onto W DIAMOND ST.
End at 6534 W Diamond St Boise, ID 83709