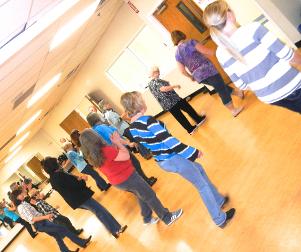 SUNDAYS - We are dancing!!!

4:00 - 7:00. Line dance classes.
4:00-5:00 Beginner lessons


5:00-6:00 Improver lessons




6:00-7:00 Intermediate lessons
You will need to register with the City of Meridian. Go to
THIS WEBPAGE
or call
208-888-3579
to register
Helpful HINT: When you view these videos on your computer at YouTube.com, click on the gear like the one shown here. --->
Then you can slow down the video, making it easier to follow along.

Stepsheets and Videos for Line Dances taught during Sunday classes, plus pattern dances (scroll to the bottom of this page)
BEGINNER line dances taught:
Song: Soul Sister




Song: Love Done Gone



Roll with the Punches (Take These Chains) Stepsheet















Song: Little Kiss Me Honey






Song: Tail on the Tailgate






____________________________________________________________________________________________________
INTERMEDIATE DANCES:
Song: All Day

American Saturday Night (Just Another American) Stepsheet






Bomshel stomp Stepsheet


Rebel Just for Kicks Stepsheet
Song: Feel it Still



Song: The Road Song



Rock and Roll Stepsheet

Song: Rock and Roll Kiss


Demo: https://www.youtube.com/watch?v=N0apOQkS60M

Song: Rhythm of the Rain




Song: Aw Naw




Song: Sic 'em on a Chicken




Song:

Can't Stop the Feeling




Song: You're So Sexy
Song: Take Down





Song: Stuck Like Glue








Song: Sweetheart




Song: It Only Hurts Me When I Cry
Partner Pattern or Mixer Dance: