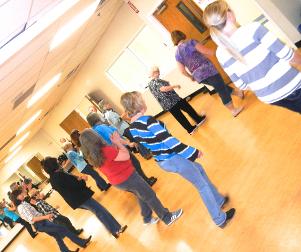 SUNDAYS

4:30 - 7:00. Line dance classes.
4:30-5:30 Intermediate lessons


5:30-6:30 Beginner lessons




6:30-7:00 Review & Open line dancing
NO DROP-INs
. You will need to register with the City of Meridian. Go to
THIS WEBPAGE
or call
208-888-3579
to register for the following class:
Adult - Line Dancing (all ages welcome)

Each

Sunday, 4:00 to 6:30




Community Center, 201 E Idaho Ave, Meridian




Price: $20 for all 4 Sundays
TUESDAYS (Every Other)
7:30-9:30. Every other Tuesday Line Dance at Nampa Eagles. Randy's Fun Night. No lessons, just dancing. We will turn on music that we can line dance to and just dance, dance, dance. If you don't know the line dance to that song, pick a dance of your own or grab a partner for a couple's dance. Let's Just Dance! $5
WEDNESDAYS
7:00-9:00. Line dance classes at Nampa Eagles. All ages are welcome.
7:00-7:45 Intermediate lessons


8:00-8:45 Beginner lessons




7:45-8:00 and 8:45-9:00 Review & Open line dancing
Donations will go to the Eagles for opening their facility so we are able to dance Wednesday nights. Please be generous with your donation ($5 suggested) and tip the bartender. 118 11th Ave N, Nampa
Stepsheets and Videos for Line Dances taught during Wednesday and Sunday classes, plus pattern dances:
SUNDAY BEGINNERS:
WEDNESDAY BEGINNERS:

Other beginner line dances being taught:
Chantilly Cha Cha Stepsheet
Intermediate dances
(Guess we should do instructional videos for some of these)
:
Wildflower -

https://youtu.be/f3Iik_vpbQs