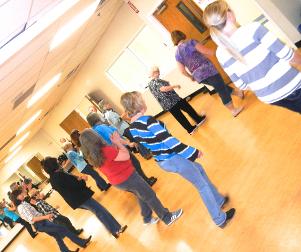 SUNDAYS

4:30 - 7:00. Line dance classes.
4:30-5:30 Intermediate lessons


5:30-6:30 Beginner lessons




6:30-7:00 Review & Open line dancing
You will need to register with the City of Meridian. Go to
THIS WEBPAGE
or call
208-888-3579
to register for the following class:
Adult - Line Dancing (all ages welcome)

Each

Sunday, 4:30 to 7:00

Price: $20 for 4 Sundays
TUESDAYS (Every Other)
7:30-9:30. Every other Tuesday Line Dance at Nampa Eagles. Randy's Fun Night. No lessons, just dancing. We will turn on music that we can line dance to and just dance, dance, dance. If you don't know the line dance to that song, pick a dance of your own or grab a partner for a couple's dance. Let's Just Dance! $5
WEDNESDAYS
7:00-9:00. Line dance classes at Nampa Eagles. All ages are welcome.
7:00-7:45 Intermediate lessons


8:00-8:45 Beginner lessons




7:45-8:00 and 8:45-9:00 Review & Open line dancing
$5 for 2 hours of dancing. Remember to tip the bartender.
Helpful HINT: When you view these videos on your computer at YouTube.com, click on the gear like the one shown here. --->
Then you can slow down the video, making it easier to follow along.

Stepsheets and Videos for Line Dances taught during Wednesday and Sunday classes, plus pattern dances
Beginner line dances being taught:












Sommerfestival (Little Kiss Me Honey) - https://www.youtube.com/watch?v=7z6zUbYMWfk

Sommerfestival (Little Kiss Me Honey) - Stepsheet
Intermediate dances:



American Saturday Night (Just Another American) Stepsheet






Partner Pattern or Mixer Dance: