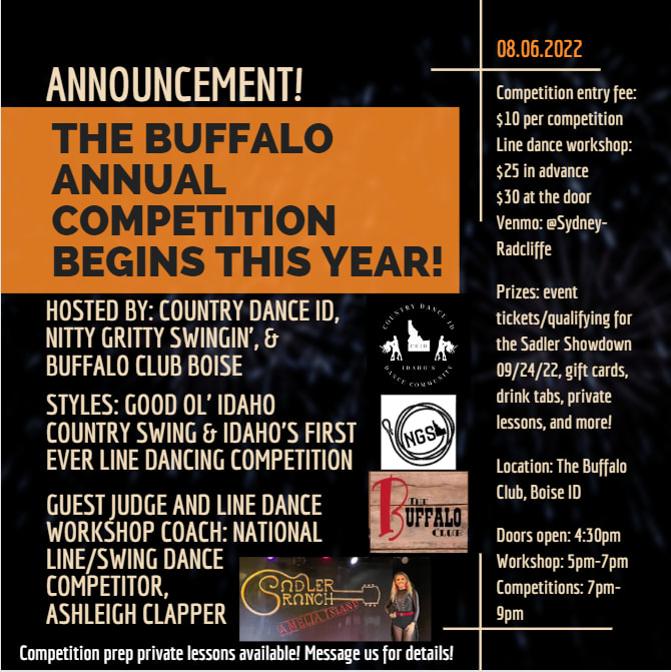 On Saturday, August 6th Country Dance ID will be holding the 1st annual Buffalo Club Open country dance competition! Divisions will include: Country Swing Strictly, Country Swing Jack and Jill, and Idaho's FIRST EVER Line Dancing Competition!!! All events will be All-American (all skill levels, amateur to pro allowed).
This historic event (The Buffalo Club's first dance competition) will also act as a regional qualifier for the Sadler Showdown: a national country dance competition and workshop event held on Amelia Island, FL on Sept 24th.
1st place winners in each division at the Buffalo Club Open will receive free workshop and competition passes for the Sadler Showdown, and AUTOMATICALLY qualify for finals for their division. 2nd place winners will receive $10 off competition registration for the Sadler Showdown, and also AUTOMATICALLY qualify for finals for their division.
Additionally, 1st through 3rd place winners for each division will receive bar tabs at @thebuffaloclubboise, free private lessons from @countrydanceid, gift cards, and more!
We will also be hosting a very special guest: Ashleigh Clapper, a national level country swing and line dance competitor and the founder of the Sadler Showdown. She will be acting as a guest judge for our competition, and prior to the competition she will be putting on a seminar teaching ALL of the Line Dances that will be used for the Line Dance Competition at the Sadler Showdown! If you sign up for this workshop, not only will you be learning which line dances you'll be competing to before anybody else, but you'll also be learning them from the master herself!!!
For competition or workshop registration please message Country Dance ID on Facebook or Instagram or email us at Countrydanceid@gmail.com.
To sign up for the Sadler Showdown in September visit
https://www.sadlershowdown.com/
and use code DANCEID at checkout for a special discount!
Looking forward to seeing you all there!